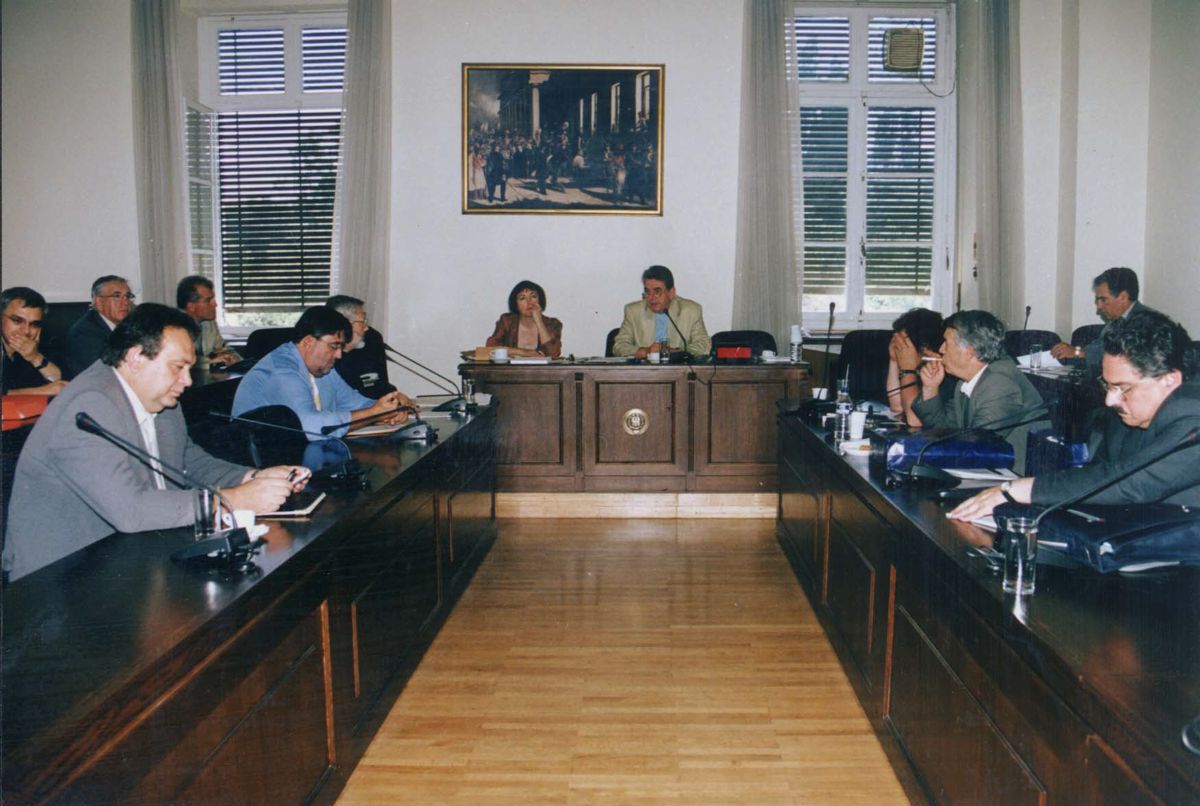 Hellenic Parliament
(June 13th 2001)
Committee for the Hellenic Dispersion
The Program is presented by two MPs, Skandalakis Panagiotis, MP of the New Democracy and Giannakopoulos Ioannis, MP of PASOK.
UPDATING OF THE SPECIAL PERMANENT COMMITTEE FOR THE HELLENISM OF GREEK DISPERSION
An official presentation of the Program "Ecumenical Hellenism" was presented by the Program's President Mr. Stavros Panousopoulos at the Hellenic Parliament, to the members of the Committee, in the presence of the General Secretary of Greeks Abroad, Mr. Dimitrios Dollis.
Subsequently, the Commission's President Vassilios Geranidis stressed the need for non-governmental organizations such as the "Ecumenical Hellenism" Program and the importance of the work it is doing. The Vice-President of the Commission Mr Panagiotis Skandalakis, referring to the success of the Mission of the "Ecumenical Hellenism" Program in the Hellenic Republic of South Africa, in which he participated as one of the leaders, referred to the need for collaboration and networking of the "Ecumenical Hellenism" with the Committee, the SAE and the General Secretary of Dispersed Greeks.
In his speech, the President of the Program "Ecumenical Hellenism" Mr. Stavros Panousopoulos said:
"Before I begin the presentation of the program, I would like to address as a simple Greek a great thank you to the Committee of Hellenes Abroad and to the SAE for the enormous work they are doing about Greek Dispersion.

15-20 years ago, the Greeks of the dispersed communities felt alone and literally deserted.

They looked around looking for something from Greece, something from their homeland, but that was something they could not see anywhere. But nowadays, even if they do not see it, they certainly feel that an umbrella of love and interest from the SAE and their Motherland, covers them and gives them courage and hope for the dream.

I also want to thank Mr. Skandalakis for his initiative and idea, for me to be with you today, to be in a place that I personally never imagined I would visit under any capacity. Being in the heart of Greece and Hellenism.

Thank you all"
This slideshow requires JavaScript.